Erie Art Company presents:
The 1st annual Irving Literary Festival will be held in Washington Square Park (corner of Raspberry/Cascade and 24th/25th)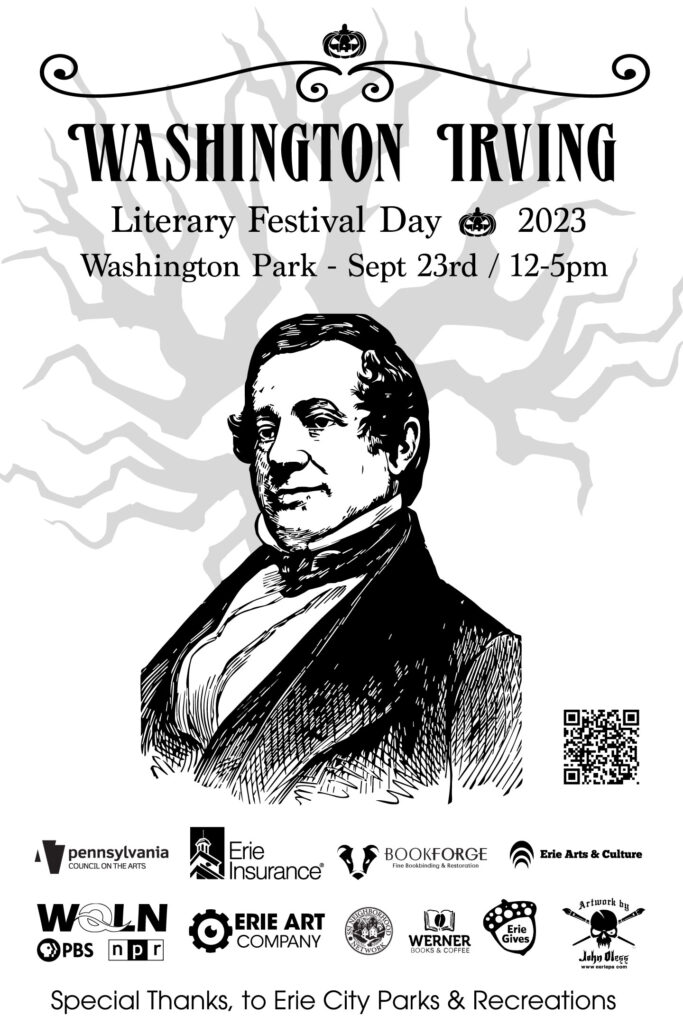 on Saturday September 23, 2023 from noon until 5 pm. We are inviting Erie residents to experience the works of Washington Irving and original works of Erie writers and poets. The festival will be offering:
+ a free book tent for ages infant-teen,
+ a book swap for adults (bring a book, take a book)
+ book demonstrations
+ poetry and short fiction readings from area storytellers and writers
+music in the gazebo
+ crafts
The WQLN STREAM Machine will be available. September's STREAM Machine theme is "Technology and You." Inside the STREAM Kits are things families can do together without using technology.
This event is sponsored by Erie Arts and Culture, The Pennsylvania Council on the Arts, Erie Insurance, and from generous donations through Erie Gives.
Schedule
12:30-1:15 storytelling TJ Laffan
1:30-2:15 music Mike Russo
2:30-3:15 Poetry Niecey Nicole, Abdullah "Bigg Wash" Washington, Todd Paropacic
3:30-4:15 storytelling Debbie!
4:30-5 music Jason Gamble
Anyone interested in volunteering, vending, or sponsoring this event can contact Erie Art Company at [email protected] or Margo at 814-450-1176 (talk or text).