If you like art the way we like art (and we're pretty sure you do), then you know that it takes funds to keep things going. Projects, supplies, location costs all add up quickly. Your donations will go towards the new Renaissance in Erie. All of it. Thank you for being an advocate for that which brings us all life.
Get ready to give! On August 8th, visit eriegives.org and make a donation to us and/or to any of the great participating nonprofit organizations in Erie County. All giving will end at 8:00 PM on August 8th, so make sure to get your gift in on time!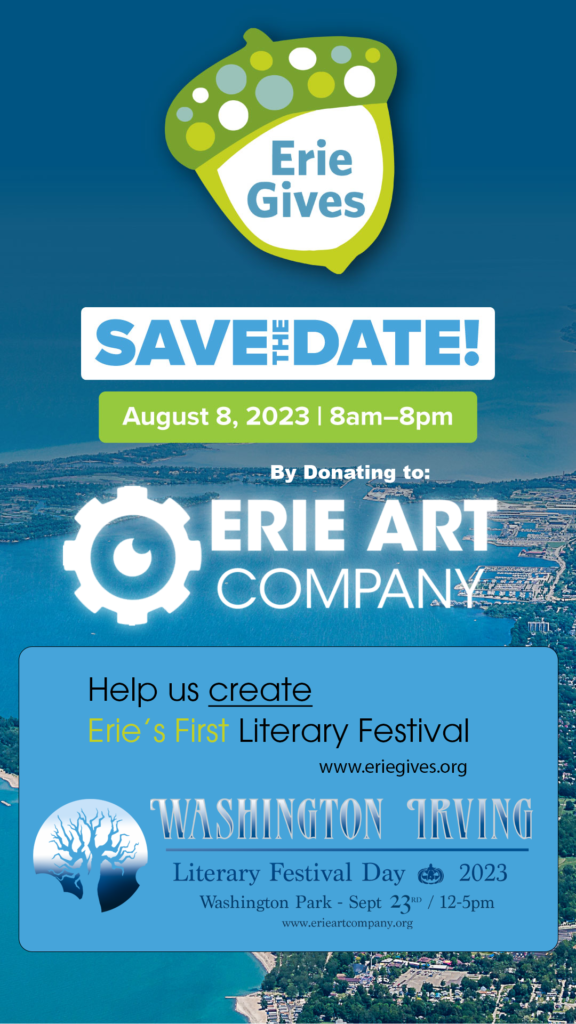 ---
Programs and Services you Fund
Erie Art Company develops multiple avenues for visual art, including:
-Erie Art Gallery, a contemporary art space for emerging and established artists in the region
-Digital art development: helping artists curate NFTs, CryptoART, and understand digital technologies
-Pop-up exhibits for businesses, empty windows, and unusual places
-Art education events for community centers and schools
–Noodlefish: Immersive art exhibits and interactive displays merging tech with mulit-media art

The arts are nourishment for our hearts and minds. They are critical in our exploration of who we are and what we might become. May we continue to encourage those whose talent, dedication, and visions can create a better tomorrow.
Contact Margo L. Wolfe for more donation information.
814.450.1176